posted on 2019-07-10

Just got my Atom and RSS feeds enabled and configured. If you want to subscribe to the feed, its relatively simple. Install a plugin for your browser that allows subscribing to Atom feeds. Simply look for the "Feeds" pulldown menu item in the navigation bar on the top of the web page and select your preference. That will take you to the respective xml file if you would like to look at its contents. I personally am using the FeedBro client which once you have installed and have the XML displayed in your window, select "Find Feeds in Current Tab" and press "Subscribe" That is all there is to it.
The modifications in the source code to generate the XML feed were very simple and took about 5 minutes. I spent more time reading through the document and reading the code prior than I did actually writing it.
Until the next blog, don't talk about it...
posted on 2019-07-06

Python is sooo baller. Been trying to get this Haskell app to fire up a web server locally for my dev instance and I'm thinking forking, rebuilding, yada yada yada. I wonder if there is some pythonic way to do this so I don't have to configure httpd or jump through so many hoops and sure enough...bam, one liner. Kick it off in Emacs and it logs to stdout as a bonus.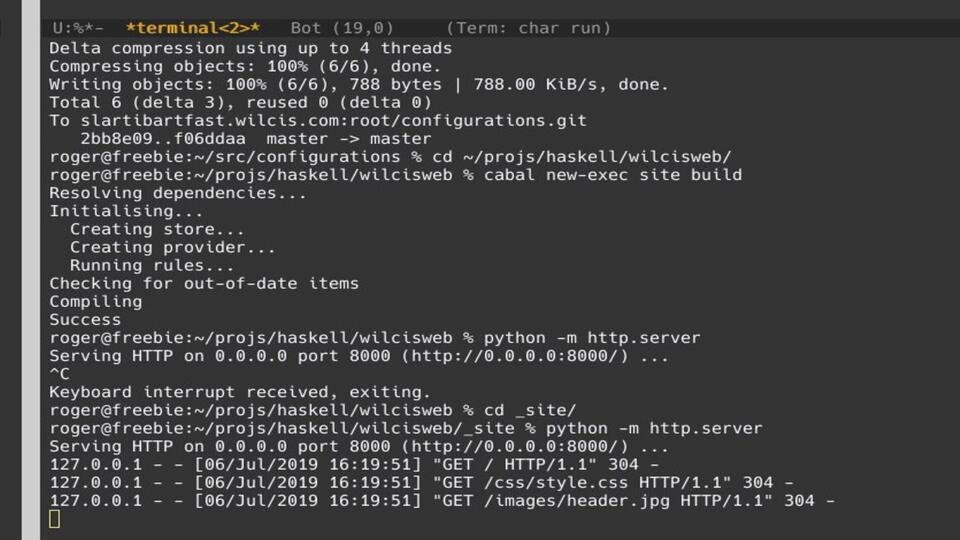 This is a huge time saver and for a development system is all that is required to have a good experience coding/compiling/viewing all within the confines of the Emacs editor. No need to switch screens to a terminal just to restart the web server as needed.
Until the next blog, don't talk about it...
posted on 2019-07-04

Happy 4th to everyone in the USA! Another year has passed us by and here we are in the midst of summer with the appropriate 90+ degree F weather that comes with it.
This seemed like the perfect day to kick off this new site and new post. New beginnings for the US were set forth on paper and signed today and thus it is with web sites and blogs.
In the past I was working with a much more complex system leveraging Plone, but my Plone site broke a couple years ago as I was too busy to keep it updated as I should have. The version leap was large, not to mention the supporting library issues. All the data was locked in my Zope DB and became lost. I'm pretty certain that I may have been able to get it out if I put the time in, but really didn't have the time to do so.
I have completely switched gears and decided to run with a static site this time. I'm currently fully engaged with functional programming and have been so for a few years, mostly living in the Clojure world and getting my feet wet with regards to the mindset that is required there. I have always wanted to put time into learning Haskell however and this seemed like the perfect time to make the jump. I created this page using a package called Hakyll and have just begun to get into the configuration etc. So far its been really challenging and a lot of fun. I'm sure I'll be posting things I learn as I move forward in this world and become more savvy in Haskell, at least that is my hope at this point.
Again Happy 4th!
Until the next blog, don't talk about it...
---
Unless otherwise credited all material © Wilcis.com by Roger Williams